Global Offshore Wind 2020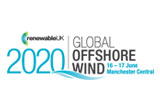 27 October 2020 - 28 October 2020
---
The UK is the most exciting offshore wind market in the world in 2020, with up to 11 GW of new capacity coming forward at record low prices. Leading UK developers are expanding into new markets like the US and Taiwan who in turn are opening opportunities for export and investment across the globe.
Meet our global attendees from #RUKGOW19 here.
Network with 4500 offshore wind professionals from 40 countries and learn from the experiences of 200 expert speakers over two days of intense debates, presentations, panels and workshops.
Meet with 160 exhibitors demonstrating the very latest in industry innovation transforming the supply chain. Promote your brand profile & share your experience across four bespoke theatres: Global Markets, Logistics, Innovation and Subsea Theatres.
Personalise your experience and build a programme of sessions, meetings, networking and socialising with our interactive event app, polling tool, live streaming and much more.
Support your industry by attending this event organised your trade association RenewableUK #byindustryforindustry.